Sunday, June 23, 2013
PHOTO ABOVE: PROSTITUTE WAITING FOR PICK UP AT CLOSED RED CHEF RESTURANT NORTH TRAIL SARASOTA FL.
Sarasota Herald Tribune writer Tom Lyons needs to get out of his office a little bit more and drive up to the North Trail and just sit in any parking lot for 10 minutes and observe the criminal activity of prostitutes and drug dealers in broad daylight, I did see our stories below.
Sarasota Herald Tribune: The North Trail is the entrance way Sarasota's visitors encounter after they fly into town — and it runs close by iconic arts and cultural landmarks and colleges — much of that area has long had a reputation as a sleaze hot spot. The defunct and boarded up Mel-o-Dee restaurant on the North Trail near the Water Tower Park, has become a hangout where working girls and thieves and others use it as a place to hide and do drugs and sleep "It was like a little hotel in there."  Cops found the owner of the Mel-0-Dee, who of course had no idea what was happening there, and copsworked with code enforcers to get the man to properly secure the building. That was just over a week ago, and it helps.
There is no control or curtail of the drug and sex for sale activity on the North Trail of Sarasota Fl, see photos above, within 5 minutes of setting up surveillance on the North Trail of Sarasota Fl, Tuesday August 7th, just south of Myrtle Ave, I spotted a blond woman walking the street and using hand signs to motion passing cars ( Johns or drug customers) to pull their cars behind a closed fast food joint (Red Chef), first she got in a blue 2000 Toyota registered to a guy in St Pete Fl who is 56 years old, they drove to the Sarasota Jungle Gardens at 3701 Bay Shore Road  Sarasota made the drug deal and then drove back to the closed fast food joint (Red Chef) where he dropped her off.
Two minutes later a older man in a silver SUV picked up the blond hooker behind the closed fast food joint (Red Chef) on the North Trail of Sarasota Fl, they drove across the street to the Goodwill Store parking lot at 3333 North Tamiami Trl Sarasota Fl, see map, and completed their drug deal, both of these drug deals happened in 11 minutes, busy street.
Newtown black thug Dexter V. Johnson, 51, had been at living at 2749 Leon Ave,
SEE MAP
 in the heart of Newtown where he ran a car detail business.  Dexter V. Johnson has been arrested 43 times in Sarasota County Fl. Dexter V. Johnson, DOB 4/11/1961, did time in the Florida State prison system on drug charges in 2000, Dexter V. Johnson is a cocaine dealer and a low life pimp who had run girls on the North Trail in Sarasota.
Current Prison Sentence  History Dexter Johnson:
Offense Date
Offense
Sentence Date
County
Case No.
Prison Sentence Length
02/02/2012
FELONY BATTERY
04/01/2013
SARASOTA
1208386
1Y 1M 0D
Dexter V. Johnson is currently in the State of Florida prison system doing 13 months for felony battery.  Dexter Johnson raped and cut up an underage female and left her to die in the Water Tower Park on the North Trail. Dexter V. Johnson, and others in his crew, appears to have had dealings with both Amber O'Brien and murdered Nicole Rose Scott on the North Trail Sarasota Fl, small world again.
Thursday, April 11, 2013
SARASOTA – A Sarasota woman faces numerous charges, including child neglect, for allegedly having her child in a home where drug deals and prostitution are common practice, according to police. Heather King, 24, was arrested Tuesday, April 9th, on a warrant after the narcotics unit searched her home on Tarpon Avenue. Drugs and paraphernalia, including needles and cooking spoons, were observed in places accessible to King's child, cops say she is a member of the Juggalos gang. 
Heather J. King, DOB 11/20/1988, has 3 prior arrests in Sarasota County since the begining of the year, including POSSESSION OF COCAINE and DRUGS POSSESS-CONTROLLED SUBSTANCE WITHOUT PRESCRIPTION.  She was arrested February 2013 on the drug charge at the corner of Bee Ridge Rd and Beneva Rd.  The Juggalos gang have been mostly made up of  transient or homeless people, just what Sarasota needs more drug dealers amid the homeless population.
CORVALLIS, Ore. — Two teens arrested for beating homeless people are members of an emerging street gang known for painting their faces like clowns, say police. Jonathan Appelt and Robert Griffin told officers they were "juggalos" when they were arrested for
three violent attacks on the homeless
, said Lt. Tim Brewer.  Juggalos have their roots in a rap group called the Insane Clown Posse.  They paint their faces black and white, like ICP members, and sometimes wear clothing or have tattoos of the Hatchetman, an ICP logo. Appelt had a hatchet similar to one carried by the Hatchetman when he was arrested, said Brewer.
Clovis, CA (
The Weekly Vice
) – Jeffrey Nicholas, a 45-year-old Clovis man and six other people (aged 18 to 28) claiming to be Juggalos were arrested for dealing drugs out of Nicholas' home. One man's mugshot even appeared to have some remaining clown make-up…  a Juggalos trade-mark. According to Clovis police, neighbors had been complaining about the amount of traffic going in and out Nicholas' home for months. Police set up a sting using undercover "drug buyers" and gathered enough evidence to make seven arrests. Investigators say the suspects sold Oxycontin and Opana, a new highly addictive and dangerous narcotic.
FBI National Gang Threat Assessment – Emerging Trends as per the National Gang Intelligence Center (NGIC).  The Juggalos, a loosely-organized hybrid gang, are rapidly expanding into many US communities. Although recognized  as a gang in only four states, many Juggalos subsets exhibit gang-like behavior  and engage in criminal activity and violence. Law enforcement officials in at  least 21 states (Florida) have identified criminal Juggalo sub-sets, according to NGIC reporting.
Dante Kirpal Kier, 19, a Juggalos gang member faces three felony charges, including attempted murder, after police say he stabbed a Kalispell homeowner during a Dec. 12 home invasion because "it felt good."  The FBI report states that most crimes committed by  Juggalos are sporadic, disorganized, individualistic, and often involve simple  assault, personal drug use and possession, petty theft, and vandalism. However,  open source reporting suggests that
a small number of Juggalos are forming more organized subsets and engaging in more gang-like
 criminal activity, such as  felony assaults, thefts, robberies, and drug sales. Social networking websites  are a popular conveyance for Juggalo sub-culture to communicate and  expand.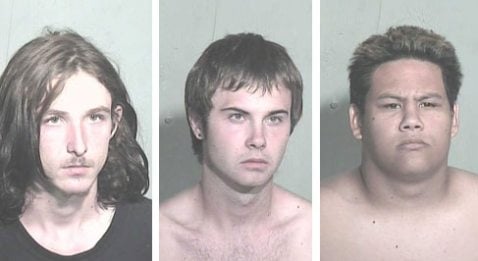 Juggalos' disorganization  and lack of structure within their groups, coupled with their transient nature,  makes it difficult to classify them and identify their members and migration  patterns. Many criminal Juggalo sub-sets are comprised of transient or homeless individuals, according to law enforcement reporting. Most Juggalo criminal  groups are not motivated to migrate based upon traditional needs of a gang.  However, law enforcement reporting suggests that Juggalo criminal activity has  increased over the past several years and has expanded to several other states.  Transient, criminal Juggalo groups pose a threat to communities due to the potential for violence, drug use/sales, and their general destructive and  violent nature.
Bill Warner Sarasota Private Investigator, SEX, CRIME, CHEATERS & TERRORISM at
www.wbipi.com